Supporting Faculty to Build Knowledge Globally
"U.S. science publications involving international collaborators rank considerably higher than all other U.S. science publications in field-weighted citation impact (FWCI) analyses, in some cases nearly doubling the average FWCI of publications with only collaborators from the same country."

America and the International Future of Science
The American Academy of Arts and Sciences report (2020)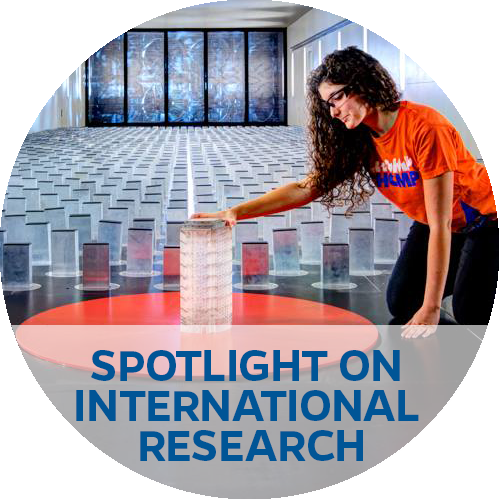 The University of Florida International Center's Office for Global Research Engagement (OGRE) supports faculty in their international research, teaching and community engagement. OGRE can assist you with funding searches, preparing proposals, connections to other researchers, and how to navigate UF's administrative processes. We are your connectors to campus resources – if we do not know the answer to your questions, we know who does and we will connect you to them. OGRE hosts numerous workshops throughout the year and provides funding for faculty to engage internationally. Check out the funding opportunities, access our research resources, or contact one of our staff.
Why Promote International Research?
For years, academic scholarship has not been bound to the geographic border of our campus. The scholarly outputs of UF researchers have a global impact; and likewise, the research community outside of UF influences us. Undeniably, research with an international focus has a targeted effect on our faculty and students. How?
Goals for International Research Partnerships
To extend international networks and build knowledge partnerships to enhance the quality of research and scholarship at UF.
To expand UF faculty access to new, creative, and innovative global opportunities for scholarship.
To build and develop global competence in our faculty and students to prepare them for a multicultural world and global economy.
To build international collaborative initiatives that contribute to promotin
Working with researchers in other countries will add value through their contribution to greater diversity in scientific knowledge and ideas. Data support that researchers who collaborate internationally are cited more frequently.[1]
The American Academy of Arts and Sciences determined that international collaborative efforts contribute to the growth of science, knowledge, and innovation. The Academy determined that successfully advancing complex research requires a diversity of research capabilities, perspectives, and access to resources.[2]
International research collaboration fosters global innovation and competitiveness.[3]
International research will extend our opportunities to apply for funding outside of the US. Whether independently or in an international collaboration, an international focus will provide access to a larger set of funding programs.
Working internationally, provides access to unique study sites and populations leading to innovation and discovery.
Collaborating with international faculty provides access to facilities and resources not available on campus.
An international focus enables a greater global perspective and allows us to understand how our research translates outside of the US.
Increase our awareness of how disciplines are practiced in other countries.
Attract students from undergraduates to post-doctoral fellows from abroad.
By extending the international focus to the classroom, we can contribute to students' global competencies as we prepare them for a multicultural world and global economy.
Advance UF's international ranking and global presence.
[1] Smith MJ, Weinberger C, Bruna EM, Allesina S (2014) The Scientific Impact of Nations: Journal Placement and Citation Performance. PLoS ONE 9(10): e109195. doi:10.1371/journal.pone
[2] American Academy of Arts and Sciences, America and the International Future of Science (Cambridge, Mass.: American Academy of Arts and Sciences, 2020).
[3] Glänzel, W. (2001). National Characteristics in International Scientific Co-authorship Relations. Scientometrics 51(1), 69-115.
How to Engage in International Research
Our international network is global.
Engage in a collaborative research partnership. Partner with a foreign institution with which we have a signed cooperative agreement or establish a new cooperative agreement with a foreign university to:

Facilitate research and other scholarly activity with faculty in other countries.
Submit joint proposals to US and foreign entities to support collaborative research.
Enable exchanges among faculty and students.
Access facilities and resources not available at UF.
Organize and participate in joint workshops, conferences, studios and in other collaborative forums.

Participate in study abroad programs with UF Students.
Host international scholars including Fulbright scholars in your department.
Collaborate with UFIC staff to introduce new and innovative international content into your curricula.
Add international graduate students to your research team.
Apply to be a UF Global Fellow and receive seed funding and administrative support for adding an international component to your research.
Resources for International Research
Are you preparing a grant proposal? Conducting research abroad? Working with partners from foreign institutions? Explore the UFIC research resources to assist faculty and students working internationally.
For more information: ogre@ufic.ufl.edu
OGRE staff