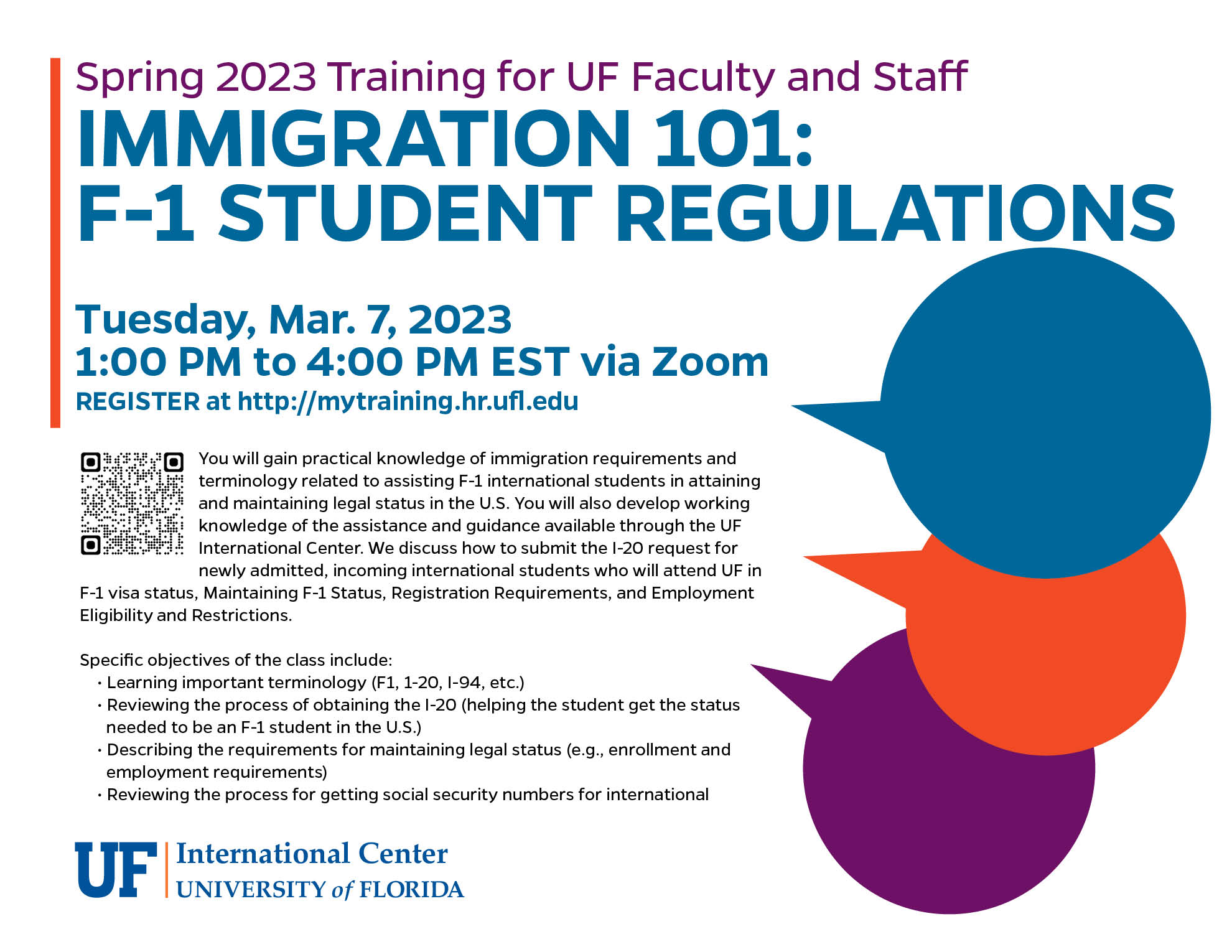 Tuesday, March 7, 2023 -

1:00pm

to

4:00pm
**** This training is for UF FACULTY AND STAFF ONLY. ****
The F-1 International Student Services office provides training regarding F-1 student visa regulations for UF Faculty and Staff. 
UF myTraining will open the registration at least one month prior to the next available session. Log into http://mytraining.hr.ufl.edu/, click on Activity Search and type "IMMIGRATION 101: F-1 STUDENT REGULATIONS" in the search field, select and register for the course. Register at least three business days prior to the session to receive a confirmation email from HR Training, including the Zoom link and course materials. 
Spring 2023 Training for UF Faculty and Staff 
IMMIGRATION 101: F-1 STUDENT REGULATIONS
Tuesday, March 7, 2023
1:00 PM EST –  4:00 PM EST
Virtual, via Zoom
You will gain practical knowledge of immigration requirements and terminology related to assisting F-1 international students in attaining and maintaining legal status in the U.S. You will also develop working knowledge of the assistance and guidance available through the UF International Center. We discuss how to submit the I-20 request for newly admitted, incoming international students who will attend UF in F-1 visa status, Maintaining F-1 Status, Registration Requirements, and Employment Eligibility and Restrictions.
Specific objectives of the class include:
Learning important terminology (F1, 1-20, I-94, etc.)
Reviewing the process of obtaining the I-20 (helping the student get the status needed to be an F-1 student in the U.S.)
Describing the requirements for maintaining legal status (e.g., enrollment and employment requirements)
Reviewing the process for getting social security numbers for international students
**** This training is for UF FACULTY AND STAFF ONLY. ****