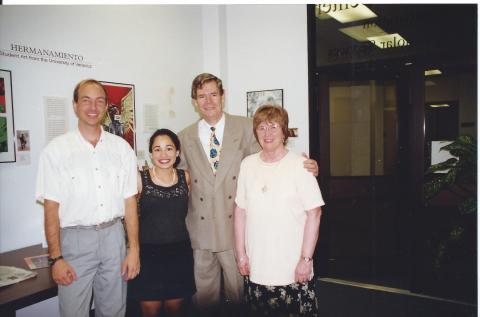 What is your name, what is/was your position or in what role/capacity did you collaborate with UFIC (former Office of International Studies and Programs)
Carolyn Horter, Executive Secretary to the OISP/UFIC Director, Dr. Paul Gibbs, and Associate Director, Dr. Richard Downie: January 1997, through August, 1999.
1999, August—December:  Communications Asst.
2003, spring term: Advisor for Australian/New Zealand Study Abroad Programs
What made you apply for your first job at the UF International Center? Or How did you first start at UFIC? 
By profession, I was an English teacher.  I was teaching a night course as adjunct at Santa Fe College and working for a local physician as his non-medical assistant, editing his papers.  When he decided to retire and the position opened at OISP, I applied. 
What do you remember about your first day, first year?
On my first day, I found two huge stacks of unfiled papers on my desk in Director Paul Gibbs' offices in Tigert Hall.  By the time I sorted and filed those two stacks, I had a good idea of the business that would come through his office, and I had learned the acronyms.
Initially, the e-mail system--the unix or linux mail system--was a puzzle.  It operated somewhat like an old-fashioned Underwood or Royal typewriter, where one had to hit "return" at the end of each line.  At home and in previous work positions, I had used Outlook for email.  As well, on three successive Monday mornings, I found a new software operating system on my computer—Word Perfect, a second one that I can't recall, and finally—Microsoft Windows, which I had used elsewhere. Along with Windows came Outlook. Finally, OISP's technology was "up to date," and I was comfortable.
 Location/building, coworkers, office space, technology, campus culture, world events…
The Director's two rooms were at the north end of 123 Tigert Hall. OISP stretched the entire length of the first floor of Tigert Hall, just at the top of the long flight of steps leading into the building from 13th Street.  The Director's two rooms included the anteroom with my desk and a small kitchenette, and Dr. Gibbs' private office.
Co-workers in the Tigert office included: Dr. Elizabeth Lowe McCoy, Executive Director; Ms. Margaretha Micha, Director of International Student and Scholar Services; Dr. James Ellis, Director of Study Abroad Services; Ms. Barbara Wilkie, Office Manager and Immigration Services; Ms. Pat Schauweker, Finance; Mr. Laurence Fahrney, IT. 
Offices for Associate Director, Dr. Richard Downie, and Program Development Director, Dr. Sandra Russo, were elsewhere.
Other co-workers--1997-2003:  Dr. Martin McKellar, Dr. Virginia Seitz, Dr. Flora Cornfield, Diane Fisher, Connie Scott, Maude Fraser, June Bristol, Lynn Frazier, Dr. Suzanna Hill, Lynn Straka, Debra Anderson, Ann, Piney, Amber, David, Joe, Shirley…whose last names I've forgotten.
What is /was your favorite part of the job?
Interaction with international students and visitors was the highlight for me.
What are special/unforgettable moments you experienced or lived at UFIC?
 Many international visitors came through the office, often to discuss agreements, sometimes before going to see the UF President.  One prominent visitor that I remember was Hanan Aswari, Palestinian leader and activist.
Working on the "Waters for Peace" RFP was exciting.  Collaborating with Dr. Martin McKellar to merge documents coming from several faculty participants was challenging, but we managed to meet deadlines for the submission. Although ultimately the proposal was not funded, it represented OISP Program Development's innovative ideas to help alleviate tensions in the Arab-Israeli conflict.
The annual International Student Awards ceremonies were colorful celebrations where students often dressed in native garb and told interesting accounts of their experiences.
Through the efforts of Dr. Gibbs and other UFIC/UF people, the Coca Cola Corporation granted UF a significant sum in support of international programs.
How has/did your job change over the years? How has UFIC changed over the years?
The name change from OISP to UFIC represented the growing importance of the international focus of the university.
The move to Grinter Hall was challenging as we reconfigured space within a very limited budget and as everyone learned to feel comfortable working in cubicles. Ultimately, the planners created an attractive, accessible space more centrally located on the campus.
Handling of international agreements changed.  When I started, it was routine procedure for Dr. Downie to travel abroad to finalize cooperative or exchange agreements with overseas universities.  With the development of the internet and email services, we were able to send drafts back and forth via email, saving time, travel, and funds.
The administrators tried to bring all international agreements under the auspices of UFIC, with varying degrees of success since IFAS preferred independent efforts. 
When I served as Communications Assistant, we updated our website, and I learned to create and publish flyers for the summer programs.  We also coined the "Global Gator" label for our students going abroad.
What do you think are UFIC's biggest achievement/success? 
I think UF offers amazing opportunities for its students to study abroad.  My niece and my granddaughter both enjoyed respective adventures. UF and UFIC are highly respected in the world of international programs.
At Grinter, UFIC made overseas study seem inviting.  The diversity in staff, the variety of programs, and the colorful ambience opened the eyes of many to the wider world.  I think we made visitors appreciate both our efforts and the growing reputation of the university's international interactions.  I'm sure the new Hub location adds even more to this international flavor.
What are/were your favorite memories of your last years at UFIC?
Study abroad fairs on the Reitz Colonnade brought together representatives from many programs across the country and the world.
Serving briefly as an advisor for AU/NZ programs in 2003 allowed me to combine into one role my teaching career, UFIC experience, personal travel, and overseas work.
How does working at UFIC influenced/changed your life?
 International awareness and contacts broadened my perspectives about everything.